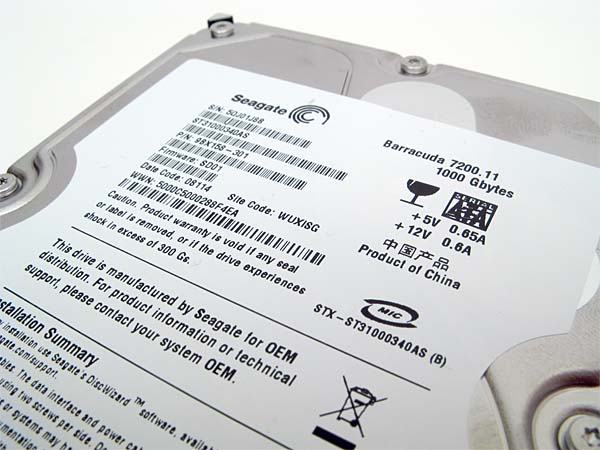 요즘 Seagate 7200.11 시리즈 하드 펌웨어 손상으로 인해 하드가 죽는일이 하루에도 여러번 보고듣게 된다.
이는 하드의 물리적 묻지마사망이 아니라 펌웨어의 심각한 문제로 전세계적으로 안고있는 제품결함이다.
물리적하드에는 이상이 없으며 하드인식을 관장하는 펌웨어의 문제로 복구업체에 서비스받으면 데이터는 안심하고 살릴수 있다.
어찌된게 이런 심각한 문제에 국내여론은 잠잠하다.
당신의
Seagate 7200.11하드 언제 죽을지 모릅니다. 백업필수!!!
Seagate 7200.11 하드는 구입하지도 추천도 해주지 맙시다.
아래는 국내와 외국복구업체 및 기사내용이다.
현재 당사에서 진행하고 있는 시게이트 7200.11 모델에서
발생하는 펌웨어 손상에 대한 복구 서비스를 안내합니다.
대상 모델은 아래와 같습니다.

7200.11 F/W : SD15
160GB ST3160813AS
320GB ST3320613AS
500GB ST3500320AS
500GB ST3500620AS
640GB ST3640323AS
750GB ST3750330AS
750GB ST3750630AS
1TB ST31000333AS
1TB ST31000340AS
1.5TB ST31500341AS

링크




Seagate have confirmed there is a memory leak problem in the new 7200.11 series of hard disks and have already issued a firmware update. The problem stems from a memory bug where the cache size is not reported correctly.
If you are fortunate enough to have found this out before your hard disk has failed, then get onto the Seagate website and download firmware update (if it is appropriate), or search for 'Seagate 7200.11 firmware update' on Google.
According to the manufacturer, the problem affects the following drives..
500 GB : ST3500320AS
750 GB : ST3750330AS
1000 GB : ST31000340AS
Reports on the Seagate forum indicate that there may be a similar problem with the 1.5 TB version of the drive.
If your hard disk has failed, then you will need a data recovery company, such as MjM Data Recovery Ltd in the UK who, at the time of writing, are one of only a handful of companies in the world that are able to repair the drives in order to recover the data. A link to MjM is provided above.
Other problems that have been reported with 7200.11 drives are..
1. The drive hangs during start up or;
2. The drive reports as 0 MB.
MjM Data Recovery can also recover data from all other manufacturers of hard disk and other storage equipment and are usually the first company able to recover when new problems arise.
They were also first when there were problems with the translator in Seagate SCSI drives and (according to their website) repair these drives for customers all over the world

링크




SEAGATE'S FLAGSHIP desktop Barracuda 7200.11 drives, in particular the 1TB (ST31000340AS) units, are failing at an alarming rate and prompting outrage from their faithful customers.
A new self-bricking feature apparently resides in faulty firmware microcode which will rear its ugly head sometime at boot detection. Essentially the drive will be working as normal for a while, then - out of the blue - it'll brick itself to death. The next time you reboot your computer the drive will simply lock itself up as a failsafe and won't be detected by the BIOS. In other words, there's power, spin-up, but no detection to enable booting.
Naturally the Seagate forums (as well as many other customer-driven forums, like etailers and hardware sites) are flooded with testimonies of customers' experiences with Seagate support. These are helpful enough to ship you a new drive, as per the warranty, but invariably the drives end up bricking as well.
RMA and Data Recovery Centres are also reporting that there's a very high rate of failure on these drives. One user in particular reports having set up a 6 TB drive array and over the course of 1 month having half the drives fail on him. No official stats are available, but at least one RMA middleman has told us there's about 30-40% failure rates.
According to data recovery experts Seagate has diagnosed the problem and issued a new firmware to address it. However, drives that have already been affected can't have the firmware applied to them due to their locked-down status.
Users are extra-peeved because beyond the usual RMA drill, if they want to recover the data on those drives they can get stuck with a hefty data recovery bill to pay.
Over a month into the problem Seagate had still not come back to customers with an official solution. Despite the company updating the firmware on newer drives, it has issued no recall on the firmware-defective drives that are still on shop shelves. They must be waiting for some grand event to come and go, say a shareholder meeting?
Drive origin and firmware seem to be Thailand and SD15, but at least one user reports having had identical problems with a unit from the Wuxi(ng) fab and the SD35 firmware.
Of course, we've mailed and called Seagate about this, but it seems their execs are too busy to pick up the phone or write back. We'll just refer them to that longstanding truth that good names are built over years and shattered in seconds. µ

링크